All the Girls!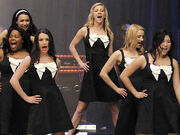 Rachel Berry - Goth-wheelkids Understidy: Pig&gleecrazy
Quinn Fabray - GossipGirl Understudy: Gleekjonleaheathernayadianna
Santana Lopez - Quinn dianna gleek Understudy: Gablexa2103
Mercedes Jones - Laurakee Understudy: Mrs.ChrisColfer
Brittany Pierce - QuinnQuinn Understudy: XMimii
Tina Cohen-Chang - TinaIsMyLife
Lauren Zizes - Finnatanlover99
Sue Sylvester - Immagleek18
Emma Pillsbury - BforBerry
Holly Holliday - Dr.Stinky
Ad blocker interference detected!
Wikia is a free-to-use site that makes money from advertising. We have a modified experience for viewers using ad blockers

Wikia is not accessible if you've made further modifications. Remove the custom ad blocker rule(s) and the page will load as expected.