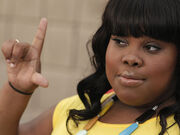 If I select you I will notify you and put your name on this page. If there is a roleplay on Friday you can play your official character and people MUST allow you to unless they have been chosen on another page.
Characters
Edit
Brittany- Heart215
Quinn- QuinnQuinn
Santana-
Mercedes-
Tina-
Rachel- LoveYouLikeCrazy
Lauren-
Sunshine-
Emma-
Holly-
Sue-
Finn-
Puck-
Artie-
Kurt-
Blaine-
Mike-
Sam-
Rory-
Will-
Ad blocker interference detected!
Wikia is a free-to-use site that makes money from advertising. We have a modified experience for viewers using ad blockers

Wikia is not accessible if you've made further modifications. Remove the custom ad blocker rule(s) and the page will load as expected.